Sometimes I share other products and companies besides my own here, such as  Amazon, etc., and I'm required to inform you that I may earn a commission if you click on or purchase what I share here. Opinions posted are always my own, though. For more info please check my affiliate disclosure.
How You Can Become A Better Writer Today
Writing is my jam. That likely isn't exactly an extremely intellectual sounding statement but it's true.
I love to write and I've been doing well at it since I won the Young Author's award in my county school system at just 10 years old. That trend stayed with me until my Senior year of high school when I learned that I had snagged the honor of having one of the top 12 'Distinguished' ranked writing portfolios in the state of Kentucky.
Writing doesn't come naturally to everyone, though, and proper grammar can be even more difficult to grasp than simply putting your thoughts in print. Add in basic errors like typos and your great ideas can become difficult for your readers to follow. If you are interested in improving your writing then I have great news – I'm going to tell you how to become a better writer today. Yes – I said, today.
There is little that annoys me worse than getting a blog post uploaded and published only to read through it live and find errors. It is even more frustrating, though, to have one of my other 'grammar police' friends text me with a screenshot of my highlighted offense. Grrr, I can't stand it when they proofread better than I do! (I'm kidding of course and I do appreciate a heads up whenever someone notices a flaw.)
Most of the time, though, my friends and acquaintances who are also my readers just can't believe that I write so well. I suppose in my actual voice and with my Appalachian accent plus dialect, I apparently don't sound quite as intelligent when we communicate face to face as I do when I write. (I'm legitimately laughing out loud while I type this. It's very true! I'm just a southern gal.)
And while I might be an above-average writer, I have kept this writing tip to myself for quite some time. It wasn't intentional. I just got so used to using this proofreading method that I sort of took it for granted and stopped thinking about it.
It was easy enough to do that because this tool I've been using is actually a plugin that is installed on my browser. It's called Grammarly and using it is like having a writing and proofreading guru inside your head. It's the world's best grammar checker!
Not Just For Websites – Grammarly is For Everyone!
Whatever you are writing, if you hope to make a clear and concise point while making a good impression, you need to have not made mistakes in your content.
It's difficult to take someone seriously when the ideas they are sharing with you are misspelled or just poorly written. So, this is a tool that makes your content more appealing to your readers, no matter who they are.
From job resumes to correspondence with your boss; from writing your new book to selling on your site; there's no limit to the ways you can use Grammarly in your home or your office.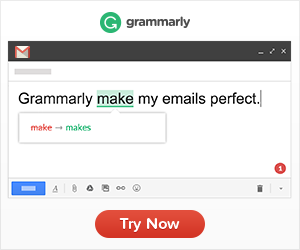 The best part is that it works for all writers from simple business emails to student assignments. In fact, anyone who types needs Grammarly! It saves so much time and makes typing far easier for even advanced writers.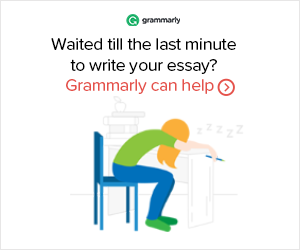 A Tool That Makes Your Content More Appealing
I honestly don't remember how or when I discovered this tool but I know I've come to love it. It was free and I've been using it daily for at least a year. While this is a sponsored post, it is my honest opinion that Grammarly is the greatest invention since sliced bread!
I started as a hobby blogger so I love free website resources, but Grammarly is one of the few things that I would recommend for all bloggers and site managers to purchase because you can guarantee that it is going to immediately and effectively improve your business image and your brand.
Easy To Use
Because I primarily use Grammarly as a proofreader for my blog, that's what I'm going to illustrate for you. It works with me automatically as I type and only takes a few seconds before it catches my misspellings and the grammar errors for me. It then highlights the problem for me in red.
As if that weren't enough, Grammarly even tells me how I need to remedy the problem so I don't have to try to figure it out by myself. All you have to do is hover your mouse pointer over the red-underlined error and a green Grammarly pop up appears seamlessly with suggestions. It's fantastic! Let me show you a few examples.
Look and Learn
Below are screenshots that I've taken as I prepared this post. You'll see in the image below that as I typed the mistakes I had made were underlined by Grammarly on my blog screen.
There is also a handy little emoji in the bottom right-hand corner that tells me what emotional tone my post is conveying as well as a counter of the number of mistakes in my total text. Sweet!
I really like the emotional tone feature because I have a severe tendency to sound rather melancholy even when I'm intending to convey excitement. So, if the emoji is showing me the straight face, I know I need to go back and reevaluate my wording. Sometimes I need to sound serious on this blog but most of the time I could probably stand to lighten up just a tad.
Now that my errors were pointed out I next simply moused over the red areas and Grammarly then highlighted the area while simultaneously showing me a suggested correction. For the typo shown first, I mistyped the word and Grammarly offered me the correct spelling.
In the following example, I've left out a hyphen, which is honestly one of my most common punctuation errors. Grammarly quickly corrects it.
Next, it caught another common misspelling issue: a compound word confusion.
Are you thinking that Grammarly made a mistake with the high school suggestion? I googled it to double-check and the correction is correct!
Other errors that Grammarly caught for me include additional typos that I make very often, an overlooked needed comma, an accidental double space and a proposition that wasn't needed.
A Missed Comma
Unnecessary Preposition
If you somehow need further convincing that you need this tool, here's a Grammarly video for you to check out, too
Let me know if you start to use Grammarly and discover that you get hooked on it, too. If you do, you can sign up for their affiliate program, as well.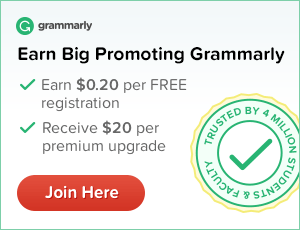 If you'd like to see more reviews like this of things I use featured on the blog then leave me a comment. I want to know I'm catering to my readers so I'd love to hear about the tips you're most interested in getting.
Also, there is a site resource list page that you can get free access to. It's for site subscribers only, so don't forget to sign up for the blog updates subscription where you'll get first dibs on new posts, products, and downloads.